TRIActive
Have you always wanted to give a triathlon a go?
TRIActive is an six-week, twice-weekly, group exercise program for beginner triathletes. TRIActive is about having a go and encouraging participation in Triathlon in a safe, friendly and inclusive environment.
Created for people who want to increase their levels of exercise through swim, bike and run, TRIActive is perfect for adults who wish to take on the challenge of a triathlon, but don't know how to get started.
Queens Park Swimming Pool is a great place to start your journey to your first Triathlon. Our TRIActive provides a structured training program; delivering two training sessions a week for eight weeks. Sessions include a combination of swim, cycle and run training, which is overseen by qualified coaches who support and mentor you as you prepare for your first race.
Many Triathlon clubs and leisure facilities around Victoria run TRIActive. Engaging with your local club or facility is a great way to connect with like-minded triathletes and have a support network to help you achieve your competition goals.
TRIActive is all about having a go at Triathlon in a safe, friendly and inclusive environment. So, what are you waiting for? Get your yourself, your family, your friends or even your work colleges together and connect with your nearest TRIActive club.

The Training
The Swim
Pool-based swimming sessions with an accredited Triathlon Australia coach will help develop not only your baseline swim fitness, but your confidence and technique too. By the final week of the program, your swim confidence will be given a boost ahead of race day when your coach takes your group for an organised open-water swimming session to make sure you are ready for the start line.
The Ride
Spin bikes will help develop bike-specific fitness and leg strength in a safe environment and free from road traffic. The TRIActive spin bike sessions will gradually develop to include running off the bike so that you are accustomed to how your legs feel on race day.
The Run
The run component of your program will gradually increase during the bike sessions in order to get you accustomed to walking and then running off-the-bike. The time spent running will reflect the demands of your specific race and this will help prepare you and build your confidence to complete your first triathlon and cross the finish line with a smile on your face!
The Transition
An important part of completing your first triathlon will be having the confidence and know-how to make smooth changes between the swim/bike and bike/run sections of your event. These phases are called transitions and your coach will simplify this part of the triathlon event-day process by practising it during your final TRIactive sessions immediately prior to the weekend of your event.
Event Day
With your TRIActive swim-bike-run program completed, you'll be confident and raring to go with your team mates on event day and relish that finish line satisfaction as you cross the line a triathlete!
Why TRI?
Becoming involved with Triathlon provides lifelong participation options in swim, cycle and run activities. It's also a sport that anyone can participate in, no matter your age, ability or fitness level.
Triathlon is full of positive health and fitness rewards for participants, including increased stamina, improved mental and physical health, greater confidence and enhanced body strengthen.
A Triathlon can be completed as an individual or a team event. It's a great way to challenge yourself, or, enlist a team to support each other. There are a number of Triathlon events running in Victoria over the summer months. To see a full list of events, please visit the Triathlon Victoria website.
Enrol in Queens Park Swimming Pool's TRIActive Program Today!
Program commences Monday 3rd February 2020
Session Times: Monday and Wednesday 6:30pm - 7:30pm
Cost: $175 which includes

Access to 12 TRIActive training sessions
6 weeks of Coaching
Triathlon Australia 8-week membership
Entry into The 2015 Queens Park Triathlon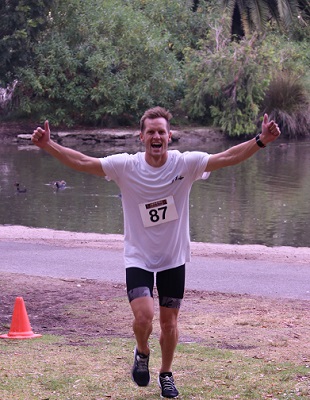 The Queens Park Swimming TRIActive program is limited to 12 spots only, so enrol today, share the experience and get active this new year.